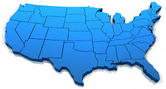 Federal Labor and Employment Agencies
United States Department of Labor (DOL)
http://www.dol.gov/
The Department of Labor (DOL) administers and enforces more than 180 federal laws. These mandates and the regulations that implement them cover many workplace activities for about 10 million employers and 125 million workers.
Occupational Safety and Health Administration (OSHA)
https://www.osha.gov/
Safety and health conditions in most private industries are regulated by OSHA or OSHA-approved state programs, which also cover public sector employers. Employers covered by the OSH Act must comply with the regulations and the safety and health standards promulgated by OSHA. Employers also have a general duty under the OSH Act to provide their employees with work and a workplace free from recognized, serious hazards. OSHA enforces the Act through workplace inspections and investigations.
Office of Workers Compensation Programs (OWCP)
http://www.dol.gov/owcp/
The OWCP administers four major disability compensation programs which provide wage replacement benefits, medical treatment, vocational rehabilitation and other benefits to certain workers or their dependents who experience work-related injury or occupational disease. These programs:
serve the specific employee groups who are covered under the relevant statutes and regulations by mitigating the financial burden resulting from workplace injury.
Employee Benefits Security Administration (EBSA)
http://www.dol.gov/ebsa/
The
Employee Retirement Income Security Act (ERISA)
regulates employers who offer pension or welfare benefit plans for their employees. Title I of ERISA is administered by the
Employee Benefits Security Administration (EBSA)
(formerly the Pension and Welfare Benefits Administration) and imposes a wide range of fiduciary, disclosure and reporting requirements on fiduciaries of pension and welfare benefit plans and on others having dealings with these plans. These provisions preempt many similar state laws.
Pension Benefit Guaranty Corporation (PBGC)
http://www.pbgc.gov/
Under Title IV, certain employers and plan administrators must fund an insurance system to protect certain kinds of retirement benefits, with premiums paid to the federal government's
Pension Benefit Guaranty Corporation (PBGC)
. EBSA also administers reporting requirements for continuation of health-care provisions, required under the
Comprehensive Omnibus Budget Reconciliation Act of 1985 (COBRA)
and the health care portability requirements on group plans under the
Health Insurance Portability and Accountability Act (HIPAA)
.​
Office of Labor-Management Standards (OLMS)
http://www.dol.gov/olms/
The Office of Labor-Management Standards (OLMS) of the U.S. Department of Labor administers and enforces most provisions of the Labor-Management Reporting and Disclosure Act of 1959 (LMRDA). The LMRDA primarily promotes union democracy and financial integrity in private sector labor unions through standards for union officer elections and union trusteeships and safeguards for union assets. Additionally, the LMRDA promotes labor union and labor-management transparency through reporting and disclosure requirements for labor unions and their officials, employers, labor relations consultants, and surety companies. OLMS also administers provisions of the Civil Service Reform Act of 1978 and the Foreign Service Act of 1980, which extend comparable protections to Federal labor unions. OLMS does not have jurisdiction over unions representing solely state, county, or municipal employees. In addition, the Division of Statutory Programs (DSP) administers DOL responsibilities under the Federal Transit Act by ensuring that fair and equitable arrangements protecting mass transit employees are in place before the release of Federal transit grant funds.